Study trip to Suriname (2007)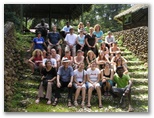 In February/March 2007 we travelled to Suriname: more than twenty students of Dutch from FU Berlin and Leipzig University. Jaap Grave wrote an article about our Suriname trip for the 'IVN-krant' (written in Dutch).
You will find some basic information about Suriname in Wikipedia, and via Google Maps you can have a look at some satellite pictures of the capital Paramaribo.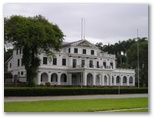 We also offer some information about the linguistic situation in Suriname.
Our trip was supported by the DAAD, the 'Deutscher Akademischer Austauschdienst'. They wrote a Pressemitteilung about this project (in German).
We got quite a lot of attention from the local media in Suriname. National television and some newspapers had reports on our visit:
Your browser does not support the audio element.
We took a lot of pictures from our trip. Here you will find a small selection: