Conference Programme
The Sociolinguistics Symposium will last from Tuesday, August 21, until Friday, August 24. Below, you find a timetable providing a schematic overview of the conference.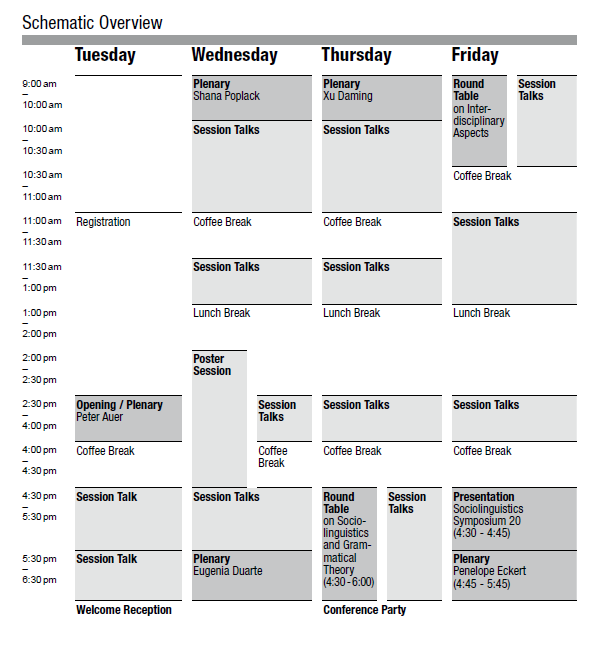 [Unfortunately, the last plenary (by Penny Eckert) had to be cancelled.]
The detailed programme (with time slots for sessions and individual papers) has been made available on August 6 (= editorial deadline for the programme). Thematic Sessions are sub-divided into several parts and assigned to successive time slots. If you want to know the time slot your presentation is in, just search for your name. If you want to see all the time slots for a certain Thematic Session, just click on the room number.
Every individual presentation will be 20 minutes (plus 5 minutes for questions/discussion).
The Poster Session will be shown during the whole conference, but we have defined one time slot where the poster authors are expected to be available for questions and comments.
For the General Paper Session, we have tried to define sub-sessions that group together papers by topic.
Please note that this programme is subject to a lot of changes (because of cancellations etc.). We will try to optimize the programme as the conference is approaching.
---
A searchable list of accepted abstracts for this year's Sociolinguistics Symposium is also available on this site (but without information about time and location of the talks).
Additional information about the programme can be found on our page on satellite events. Please have a look at the sponsors/exhibitors page, too.