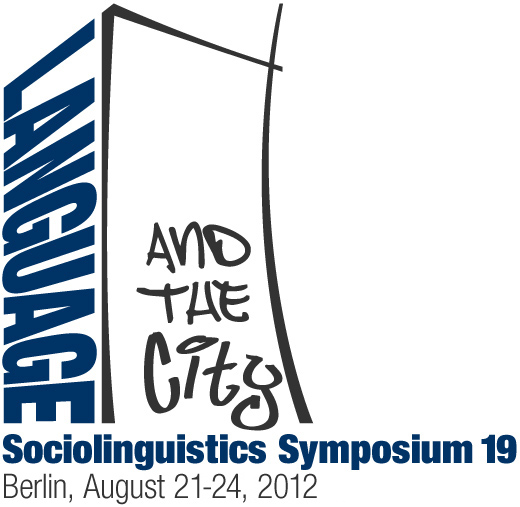 Welcome to the website of Europe's premier international conference on language in society.
In 2012, the 19th Sociolinguistics Symposium has been hosted by the Freie Universität Berlin in Germany. The general theme of the 2012 conference has been Language and the city.
Conference date
August 21 - 24, 2012
The conference started on Tuesday, August 21, in the afternoon (at 2:30 pm) with the opening by prof. dr. Peter-André Alt, president of Freie Universität Berlin, and the first plenary talk. The conference ended on Friday, August 24, in the evening (around 5 pm).
Programme
Plenary speakers:
The conference is over;
registration is not possible any more.
There have been two special plenary sessions:
Grammatical theory and sociolinguistcs (with Ray Jackendoff, Tufts University)
Interdisciplinary aspects of the main theme 'Language and the city' (with Gerhard O. Braun, FU Berlin)
The programme of the 19th Sociolinguistics Symposium is available online.
Calls, registration, deadlines
The Call for individual presentations (papers and posters) has been published in November 2011. Abstract submission has been possible from December 1, 2011 to January 31, 2012. The abstracts have been reviewed and a selection has been made. You will find the accepted abstracts here.
Call for Papers | Accepted Abstracts | Registration
Local Organizers
Matthias Hüning and Uli Reich
(Interdisciplinary Center for European Languages at FU Berlin)
Contact
sociolinguistics-symposium@fu-berlin.de
This website will be available for at least several months after the conference. We will also use it to provide you with information about the upcoming Sociolinguistics Symposia. If you would like us to inform you about news concerning the conference, please subscribe to our mailing list: