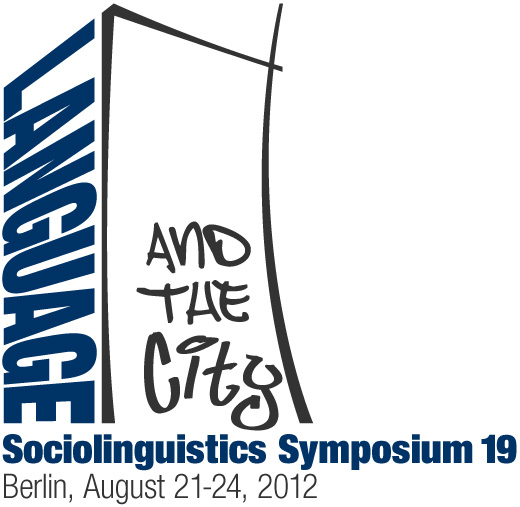 Welcome to the website of Europe's premier international conference on language in society.
In 2012, the 19th Sociolinguistics Symposium has been hosted by Freie Universität Berlin in Germany. The general theme of the 2012 conference has been Language and the city.
The conference has been attended by more than 1100 participants.
Conference date
August 21 - 24, 2012
The conference started on Tuesday, August 21, in the afternoon (at 2:30 pm) with the opening by prof. dr. Peter-André Alt, president of Freie Universität Berlin, and the first plenary talk. The conference ended on Friday, August 24, in the evening (around 5 pm).
Programme
The conference lasted for four days full of lectures, thematic sessions and workshops. We had four plenary lectures (by Peter Auer, Xu Daming, Maria Eugênia Lamoglia Duarte and Shana Poplack) and two special plenary session (one about grammatical theory and sociolinguistics, with Ray Jackendoff, and one about interdisciplinary aspects of the main theme Language and the city.
The conference programme is still available.
The conference is over.
This website is still available for documentation reasons only.
Local Organizers
Matthias Hüning and Uli Reich
(Interdisciplinary Center for European Languages at FU Berlin)